Cocktail time in Venice is bright orange
The visitor to Venice with the even slightest interest in drink will notice on practically every table and bar counter glasses of filled with an enticing orange liquid. This is the Spritz, which these days seems to be the drink most closely associated with Venice.
Campo San Barnaba, Venice.
3 glasses of Spritz. The item in my hand is a selfie stick.
(Picture cropped to preserve the anonymity of my companions)
A spritz is made from white wine or prosecco, a splash of soda water, and a "bitter", usually Aperol.
It's served over ice, usually garnished with a green olive at the end of a long stick, and /or a slice of orange or lemon, and
makes a delightful aperitif, light and refreshing, sweetish, a bit orange-y (or is that the colour influencing my perception?) , with a little bitterness.
The spritz has its origins in the period when Venice was ruled by the Austrians, and derives from the Austro-Hungarian habit of mixing wine with sparkling water to make a Spritzer. In the 20th century, Venetians began adding bitters to produce the Spritz as we know it today. Apart from Aperol, you can also have yours made with Campari (less sweet and more bitter). Or you could have it with Select, which is a little more bitter. Select was first made in Murano in 1920, and labels itself the Very Venetian aperitif. It's difficult to find outside the area, and doesn't even have an entry in Wikipedia. It makes a good Spritz, with a bright red colour. In recent years, thanks to intensive marketing by Campari, who now own Aperol, the spritz is available in bars all over the world, from London to Singapore, but you will probably find it difficult to to get one made with Select if you are outside the Veneto region, so you might want to seize the opportunity while you are there.
Image from
I think the Spritz on the left is made with Select, and the one on the right with Aperol
It's worth noting, by the way, that Aperol has an alcohol content of 11%, and Campari about twice that. I'm not sure about Select, but I think its strength is more towards the Campari end of the range. If you don't realise this, the effect can be a bit startling if you've only tried the Aperol Spritz, then decide to sample some of the other versions. You can also make a Sprtiz with Cynar, which is a bitter made from artichokes. I've only just discovered this variant, and I just remember to try one at the next opportunity.
If you want something with a bit less alcohol, you can of course have Aperol with soda, which is very pleasant. There are also soft drinks with a similar flavour, such as Sanbittèr, which make rather pleasant non-alcoholic aperitifs, so you can still sit around in a bar enjoying your bright orange drink even if you are teetotal, or below the age of lawful alcohol consumption..
One of the nice things about Venetian bars is that many of them offer a wide selection of wine, available by the glass in small measures, and at prices which are very reasonable to people from places like the UK or Singapore, owing to the different taxation policies (freshly-squeezed orange juice is usually more expensive). The bars also often have a range of delicious snacks, as described in my previous blog post on food. If you like your wine sparkling, you will be delighted to know that Prosecco is a local wine, and widely available, and you should be able to have your wine fizzy rather than still on every occasion without feeling especially self-indulgent.
Which brings us to that other Venetian cocktail, the Bellini, invented at the famous Harry's Bar and is made from prosecco and white peach puree, with the addition of sugar syrup if the peaches are tart. I've been fortunate to have tried it at the establishment where it was invented, and I liked it very much. The combination of peach and
prosecco
was delightful.
You can also buy your Bellini ready-made in bottles produced by Cipriani (the owners of Harry's Bar), which are pretty good. Should you wish to prepare it yourself from scratch, remember that it's not a sort of Buck's Fizz made by adding peach juice to prosecco. The Harry's Bar website advises you to use fresh frozen white peach puree, not to use a food processor if you are making the puree yourself (as this will aerate the fruit), and to never use yellow peaches or other additives like peach schnapps. Like the Singapore Sling, it's one of those excellent concoctions which have been brought into disrepute by improperly made versions.
In your wanderings around the city, keep your eye out for the modest local shops, usually found in the quieter parts of town, where inexpensive but very agreeable wine is dispensed from large demijohns into the customers' own bottles (usually re-used plastic mineral water bottles).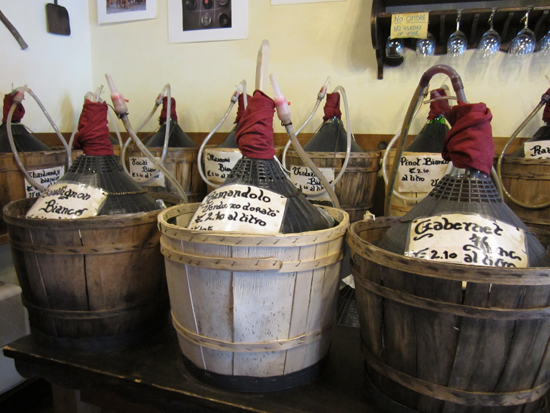 They usually have containers to hand for people who require them, but on our last visit the shop we visited had run out of bottles, so we had to gulp down the mineral water we had on us and use the bottle thus made available. And yes, you can fill your 1.5 litre used mineral water bottle with prosecco from the tank for a very reasonable price.
That concludes my review of drinks in Venice. Cin cin!
Related post: Food in Venice - a personal view