Funny and moving. The best thing I've seen this year.
One of the nice things about flying long haul on Singapore Airlines is the opportunity to see excellent movies which might not always be available in one's own country. On the way back to England from Singapore last weekend, I watched the best film I've seen so far this year.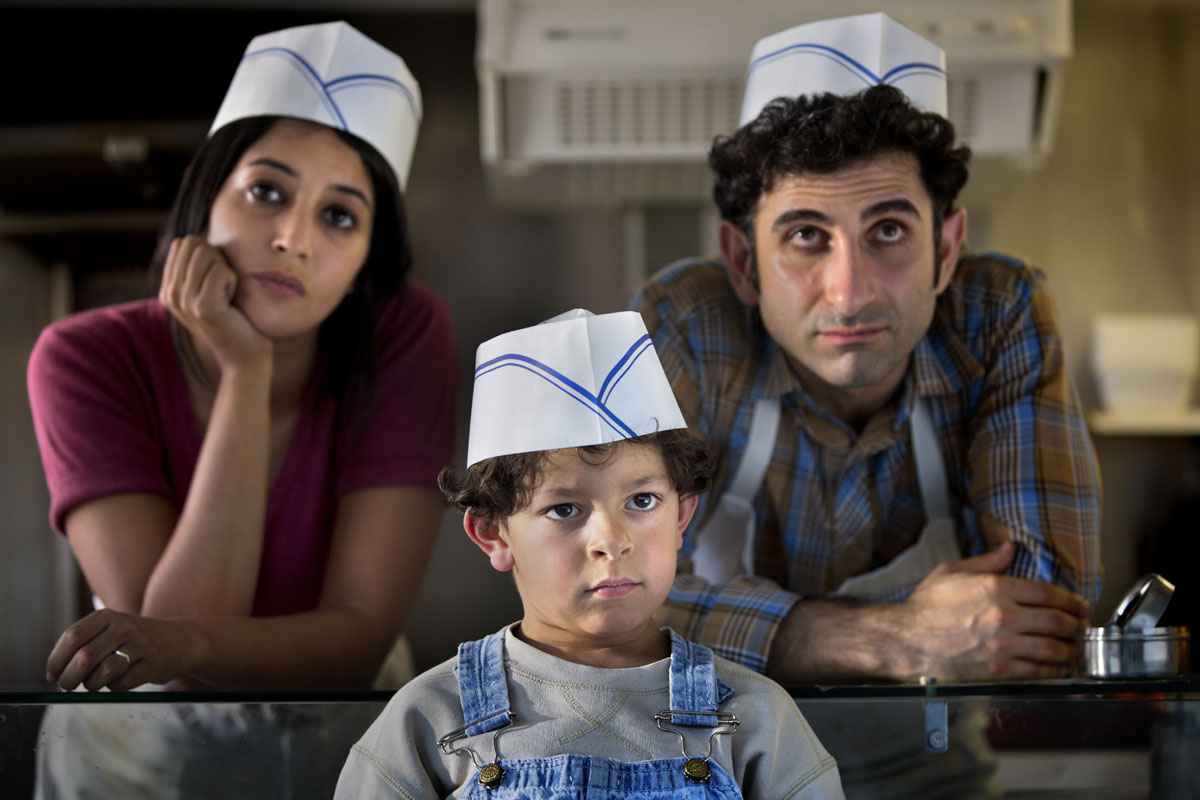 Nous 3 Ou Rien
(English title
All Three of Us
) is a French film set in Iran and Paris. It's the true story of Hibat Tabib and his family, who were involved in the political turmoil in Iran during the time of the Shah and the early days of the Islamic Republic, from which they fled to France. It's directed by Hibat's son Kheiron, who is a stand-up comedian, and also plays his father in the film.
Hibat comes from a small village in Iran, and gets a place to study law at university, but gets involved in the political struggles of the day. He ends up spending years in prison, beaten up and put into solitary confinement. When the Shah falls from power, he is released. He falls in love with Fereshteh, a nurse (Leïla Bekhti). They get married. Things turn bad in the Islamic Republic, and the couple with their infant son are forced to flee overland to Turkey.
They get political asylum in France, and settle in Peyrefitte, a tough working class suburb on the outskirts of Paris with a large immigrant politician. Kheiron and Fereshteh find work in community service and in nursing. They continue their involvement in Iranian politics. They bring people together, develop the community centre, and generally make the neighbourhood a better place.
It is a great achievement to tell a story of hardship and struggle with genuine humour and warmth, and without bitterness. This is a story about love, family, hope and optimism. But it's more than that. In the film, we see how the time of the Shah, in a country that was liberal in many respects, there was terrible repression. The revolution brought hope of better times, but things turned bad. With theocracy, the repression returned, along with compulsory headscarves for women. Women guards at the border dressed in chadors carry assault rifles, and lay into people attempting to cross with forbidden items.
In France, Hibat and Fereshteh work to bring together their diverse and multicultural community. Fereshteh the nurse gives lessons in reproductive biology to women from a conservative immigrant background, and takes them on a trip to the chateau at Fontainebleau. This is also a story of people from different cultures and backgrounds living together, of immigrants integrating into their adopted country without relinquishing their identity, of freedom, and mutual respect. The tale is told with a light touch, and without sentimentality, but does not gloss over any of the unpleasantness. I found it engrossing, funny and very moving at the same time. And the accompanying music was marvellous, by the way.
We are now in a time when intolerance and identity politics are on the rise, in Britain, France, and elsewhere. This is what Hibat (the man and not the film character) had to say on the subject, referring to France, but applicable to many other countries:
Il y a d'un côté un retour des idées assimilationnistes, qui refusent les différences. De l'autre, un repli communautaire. Or l'intégration est une rencontre, où chaque partie doit faire un pas vers l'autre.
(from
Les Tabib, père et fils sur le fil de l'exil
, Bernard Gorce,
La Croix
28/02/2016)
Which, with my dodgy French and with the aid of Google I understand to mean:
There is on the one side a return to assimilationist ideas, which deny our differences. On the other side a retreat into communalism. But integration is an encounter, where each party must take a step towards the other.
The film was released last year, and does not appear so far to have been on general release in the UK, although it was shown recently at the
Institut Français
. I hope it's shown more widely. I think it deserves the widest possible audience, and I would go so far as to say that it should be shown as part of the school curriculum.
See it if you can. If you are flying long haul on Singapore Airlines, you must watch it. Meanwhile, here's the trailer:
Nous 3 Ou Rien /All Three of Us
released 4 November 2015, 1 hr 42 m
IMDb listing
DVD from
Amazon UK